Frony Ritter started designing several years ago, after a visit to Acorns & Threads! Although she lives in California, we consider her local-adjacent!! She likes to experiment with different ways to stitch her designs, like using beads and silk gauze over one and on perforated paper, as well as linen and aida. She also likes to finish her pieces in a multitude of ways! There can be a lot going on in some of these small pieces. They are all so cute!
To see more Frony Ritter Designs, click on her
website
, and to order, please
email us here
!
from left: Beery Christmas Set 1 $4; Bee Minis $4; Midnight Snowflake $4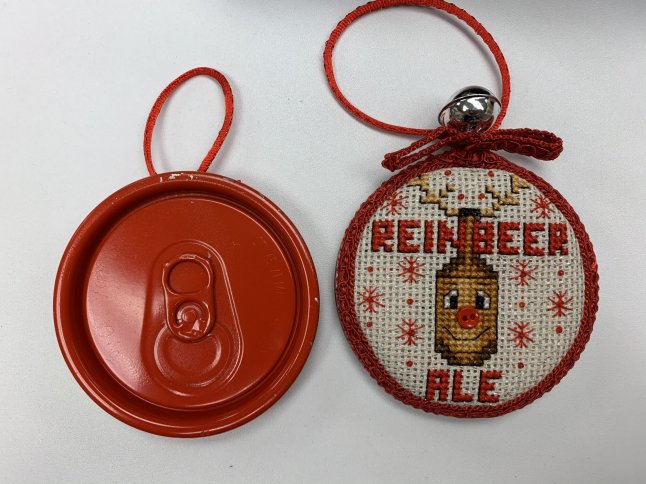 This is the back of the Beery Christmas Set 1 - it's mounted on a growler top and spray painted!
Jolly Santa $4; Bright Rudolph $4 - there's even a Sweet Mrs. Santa chart!
Midnight Snowflake on 40 ct silk gauze over 1; Aquamarine Snowflake $4
Midnight Snowflake stitched on navy perforated paper using lots of beads, mounted on fabric; version on the right is stitched on hand dyed fabric.
Sea Treasures $4; Flowery Frog $3; Bee Minis $4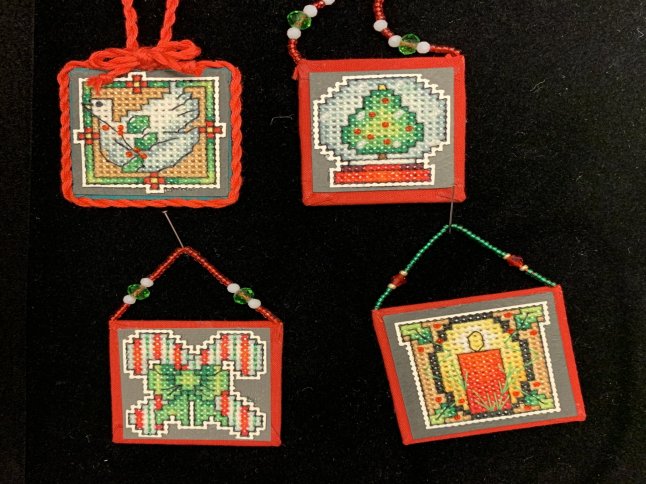 4 designs from 20 Minis-Fall and Winter $7.50
6 designs from 20 Minis-Fall & Winter $7.50
a card type of finish of one design from 20 Minis-Fall & Winter
a card type of finish for one of the designs in 20 Minis-Fall & Winter
a card type of finish for a design from 20 Minis-Fall & Winter
one of the designs from Twenty Minis $7.50
design from 20 Minis Fall & Winter
Happy Fall Sunflowers $4
a variation on one of the designs from Twenty Minis $7.50